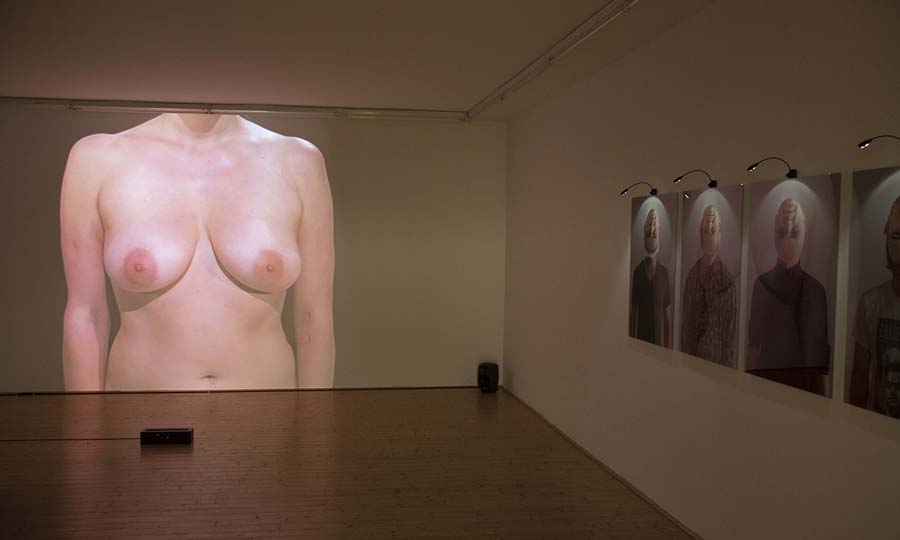 Art society PARADIGMA Linz presents three different works of artist Klaus Obermaier that have one thing in common: the change of our perception by interventions in the depiction of seemingly everyday scenes and familiar motifs.
Our perception is based on pattern recognition. Here we distinguish between two theories: the template theories assume that perceived objects are compared with objects stored in the long-term memory. In contrast, the feature theories are based on the assumption that perceived objects are analyzed and then identified by means of their "components".
With his portraits of artists, Obermaier literally turns upside down the template approach and urges us to use additional analysis through our cognitive system. We can still identify each of the persons by their characteristics, but their facial features get a certain distance and strangeness that we know from looking in the face of an animal.
The secondary sexual characteristics exposed in the installation "BB" lose their sexual connotation due to their representation in excessive size and the repeal of the laws of physics. Thus, they transmute to virtual kinetic objects in our perception.
Obermaier's urban landscapes do not show a depiction of a city, but instead a condensate of its appearances and realities.
ARTISTS
(2009–2014)
Five portraits of artists working in different fields, but all with biographical roots or references to Upper Austria respectively Linz.
Franz Blaas
[link]
Karl-Heinz Klopf
[link]
Bernhard Lang
[link]
Christian Tod
[link]
Klaus Obermaier
[link]
90x60 cm, c-prints on dibond/diasec, edition 5+1

portraits of artists | interactive installation | condensed urban landscapes
opening hours: Wednesday - Friday 2 - 7 PM
exibition: 5 - 26 Sept 2014
Kunstverein Paradigma, Landstrasse 79/81, 4020 Linz / Austria
[map]
BB
(2014)
An homage to Italian film director Federico Fellini's obsession for women with big breasts, particularly shown in his movie "Le tentazioni del dottor Antonio" (1962), starring Anita Ekberg.
The film was a reaction to the stigmatization of being immoral by the conservative Italian public and the catholic church after his success "La Dolce Vita". It was part of "Boccaccio '70", an anthology of four episodes about different aspects of morality and love in modern times.
Two images are significant for Fellini's episode:
first the monumental provocative billboard of Anita Ekberg advertising "Drink more milk";
second when actor Peppino De Felippo finds himself as a tiny little man between the colossal breasts of Anita Ekberg.
Artistic and technical assistants:
Stefano D'Alessio, Martina Menegon
Thanks to "Spazio Aereo" Venezia for the support.
interactive video and sound installation, video projector,
stereo sound system, IR-camera, MAX programming
CITIES
Cuzco, Peru (2009)
Rome, Italy (2010)
Venice, Italy (2010)
Vienna, Austria (2009)
Seoul, South Korea (2009)
A series of condensed urban landscapes emphasizing their particular subjects and characteristics.
In "Seoul" there are the shopping streets with the ubiquitous neon signs; in Cuzco the central market; in Rome street scenes from the rough neighborhood of San Lorenzo; in Venice the "acqua alta" and the legendary cichetti-bar "Bacareto Da Lele"; in Vienna the typical facades of the "Gründerzeit".
180x120 / 150x100 cm, inkjet prints on dibond, edition 5+1
Artists, Boobs and Cities
| Klaus Obermaier – Solo exhibition
Kunstverein PARADIGMA
, Linz / Austria | Sept 5 – 26, 2014
BB at Figurentheater-Festival Erlangen / Germany, May 8 to 17, 2015