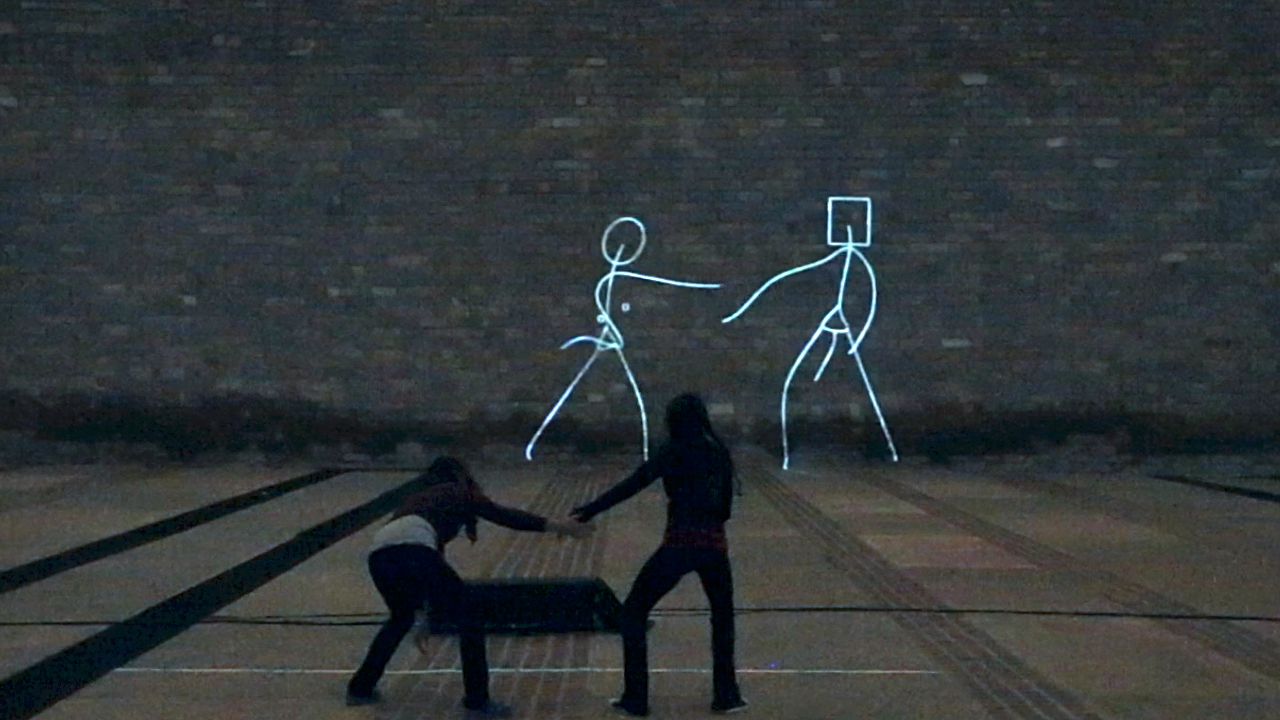 EGO
⋅ Klaus Obermaier with Stefano D'Alessio and Martina Menegon
EGO
(2015)
In psychology the mirror stage describes the formation of the Ego via the process of objectification, the Ego being the result of a conflict between one's perceived visual appearance and one's emotional experience. This identification is what psychoanalyst Jacques Lacan called alienation.
The interactive installation EGO re-stages and reverses the process of alienation by enhancing and deforming the mirror image by the movements of the users.
Although an abstraction, it quickly becomes the self and reestablishes the tension between the real and the symbolic, the Ego and the It, the subject and the object.
"It is quite rare to see performance,
psychoanalysis and technology come together
to produce such a sensitive and interesting result."
AMUSEMENT.NET / ART & DESIGN

September 23 to 25, 2022
White Night, Kosice / Slovakia

September 16 to 18, 2022
White Night, Bratislava / Slovakia

October 26 to 29, 2021
DA-Fest international digital arts festival
Academy Gallery, Sofia / Bulgaria

July 23 to October 24, 2021
Macao International Art Biennale
Mong-Ha Villas, Macao / China

March 16 to October 4, 2021
exhibition: Seductions of Light
Media Art in Dialogue with Nature and Society
Staatliches Museum Schwerin / Germany

March 13 to August 1, 2021
exhibition: MirNs
New Media Gallery - Vancouver / Canada

March 13 to June 12, 2021
exhibition: expocollective#18 - Me, Myself and I
Saint-Ex, culture numérique
Reims / France

March 13 to June 13, 2021
Humans/Machines exhibition
Le Pavillon, Namur / Belgium

July 14 to August 19, 2018
POLYLUX - Positionen zur Medienkunst
Schloss Plueschow - Mecklenburgisches Kuenstlerhaus
Plueschow / Germany

August 10 to 13, 2017
Aura2017 Festival - Sintra / Portugal

July 12 to 16, 2017
Electric Castle Festival - Cluj-Napoca / Romania

November 3, 4, 7 and 8, 2016
KIKK international festival of digital and creative cultures
Namur / Belgium

December 2 to 4, 2015 (outdoor)
Effusion: code and meaning production,
2nd performing arts, science and technology forum
Centro de las Artes San Luis Potosi Centenario / Mexico

May 8 to 17, 2015
Foyer of Markgrafentheater
Figurentheaterfestival Erlangen / Germany